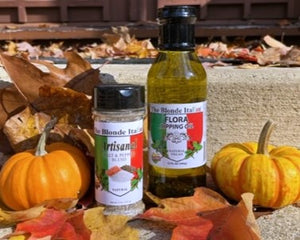 The Blonde Italian
As Seen On TV Dipping Oil & Salt Pepper Spice Blend / bread recipe included
Regular price
$ 28.00
$ 0.00
Unit price
per
Bread recipe made on TV is included.
1) Flora Dipping Oil 12 oz bottle
Ingredients: Extra Virgin Olive Oil (filtered), Salt, Basil, Garlic, Onion, Black Pepper, Parsley, Oregano, Chive. 
One Tablespoon contains 120 calories, 13 grams fat, 140 mg sodium, zero cholesterol, zero trans fat.
1) Artisanal Salt & Pepper Blend spice jar.
Ingredients: Pink Himalayan Salt, White Pepper, Sea Salt, Black Pepper, Kosher Salt.
Calories 0
Sodium: 440 mg per 0.1 oz / DV 19%
These items may be used for much more than bread! Oil for marinate & light saute.
Seasoning is excellent for all cooking styles and as a rub for steaks & chicken.
Makes a nice tabletop condiment as well!
---