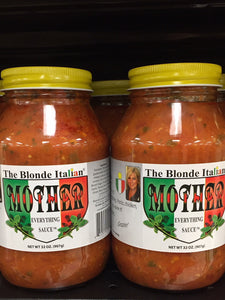 The Blonde Italian
Sauce Mother Everything Sauce 32 oz 2 JAR SET/ Shipping Included
Regular price
$ 32.00
$ 0.00
Unit price
per
If you've tried this cult-favorite sauce, no need to read. If you haven't, please do!
A mother is everything. All encompassing & capable. Warm & cozy feelings. That came to mind when naming this sauce - me!-
So versatile & richly seasoned, it works well on pasta, vegetables, chicken, pizza... to name a few! My blend of fresh tomatoes, fresh herbs & premium spices make this sauce the boss!
Kids love it too, you can't go wrong with this one!
use or freeze within 4 weeks after opening
unopened: keeps 3 yrs in pantry
---